United States History
United States History
Perhaps you are an expert on George Washington or have an affection for John Adams. Our trivia questions will test your knowledge!
Or maybe you seem to always mix up your American presidents. Can't tell James Madison from James Monroe from James Polk? Learn the dates and names of the events and people that created American's grand political history!
If you don't know the difference between Confederation and the Constitution, we can help you set the facts straight. Improve your memory. Playing our quick and fun history quizzes several times will help you remember those important facts. You will be reciting the names of presidents backwards and forwards in no time!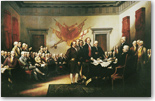 Interactive John Trumbull's "Declaration of Independence"
The Articles of Confederation
Constitutional Convention
George Washington
John Adams
US Presidents
US Presidents in Order
US Presidents in Reverse Order
Receive FREE Updates about our latest quizzes!