Math Games
Is learning math a tough topic around the kitchen table, inciting fear in your child? Or is teaching your students math calculations like pulling teeth? Math can be an intimidating subject for many students. But, before a student can advance to more complex concepts, he/she must master arithmetic. "Math is too hard!" your child or student may exclaim, but don't despair!
Math Games
is a fun collection of quiz games that will help your little student become a mathematics aficionado. With games on addition, subtraction, multiplication, and division, your students will actually enjoy themselves while learning to compute numbers quickly. So not only will their mathematical skills improve, but their ability to work swiftly and efficiently will flourish.
Enjoy studying with your child? Why not pull up a chair and brush up on your skills too. A teacher with a large class? How about creating an entertaining and educational environment by allowing all your students to work on the games simultaneously? Whatever way you choose to help your child or student better understand basic math operations, this set of games is sure to bring success.

With the help of a team of characters, including Mr. Robot and his friends, playing Math Games is easy. To choose your response, simply punch in the number and click on the "answer" button. This shoots the response up to Mr. Robot, who reveals if your answer is correct. Can't have the sound on? No problem! Mr. Robot's friends also hold signs to indicate correctness: Green light = Correct; Red light = Incorrect. If the answer is incorrect, Mr. Robot recites the problem with the correct answer. After each quiz is completed, you have the option of returning to that quiz and repeating any incorrect problems. This allows you to review any challenging problems, moving you closer to math victory!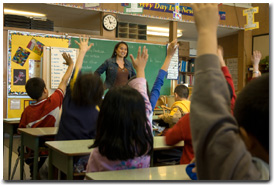 Other Resources.
Math Innovation + Hard Work = Math Success
Math Games Multiplication for Windows
Math Games - Level 1
Math Games - Level 2
Examples of Math Games.
About.com Mathematics
Taking notes in math is not like note taking in other subjects, and surprising, fewer students take notes in math. However, it's a great score improvi...
It's always fun for learners to link math activities to the current theme which is Christmas!  Here are some Christmas worksheets suitable for yo...
Calculus!  Students entering high school have heard that one of the math courses they'll be taking if  they stick with math, (and hopefully ...
About.com Mathematics: Most Popular Articles
Surface Area and Volume of a Cylinder. Page 3.
Calculating interest. Using the interest formula.
Multiplication worksheets, mad minute math worksheets, and teaching strategies to help children memorize the timestables or multiplication facts.
About.com Mathematics: What's Hot Now
Christmas Math Worksheets Mathematics. Page 4.
Slope Intercept Form teaches how to solve a linear function from standard form. Slope-intercept and the equation standard form is taught.
Refer to this Graph Line tutorial to learn about a linear graph in slope intercept form. Step by step tutorial and slope intercept worksheet is includ...